Articoli Online First
Una «profezia» pericolosa Gaetano Sanseverino lettore di Spinoza
digital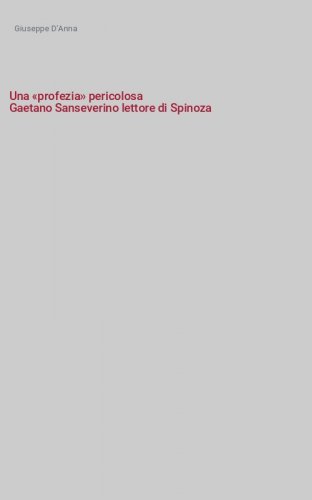 In this article I analyze the attack that Gaetano Sanseverino moves against Spinza biblical interpretation. In particular Sanseverino criticizes the Spinoza's conception of prophecy, revelation and miracles because he sees in it the origin of the rationalist exegesis of the sacred text...
John Locke on the Human Soul the Way of Henry More
digital
My aim is to highlight how much some controversial aspects of Locke's views of the human soul may be clarified by confronting them with the thought of the Neoplatonic Henry More. Sound evidence in the Essay and elsewhere suggests that More's theory of spiritual substances was congenial to Locke, for it represented an attractive alternative both to Cartesian dualism and Hobbes' materialism. Locke followed More in considering self-motion, not thinking, as the proper attribute of spirits...
Crantor's Influence on Roman Consolatory Tradition the Case of Cicero
digital
This paper aims to discuss Crantor's influence on Cicero's Tusculanae Disputationes in order to shed light on the Academic origin of Cicero's treatment of emotions. The main focus is the role of Crantor's On Grief in the third book of Cicero's Tusculanae, since this book is representative of the development of Roman consolatory tradition as well as of the influence, more or less explicit, of Crantor and, more generally, of the Academy as a centre for the pursuit of practical ethics...
Le fonti della libertà nel pensiero di Charles Taylor
digital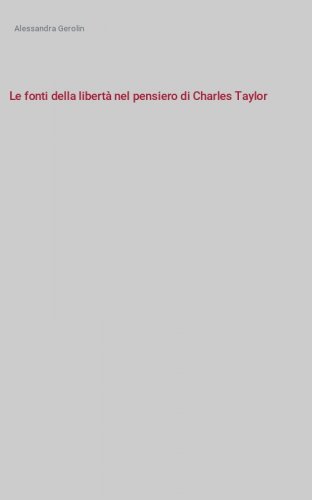 The aim of this essay consists in investigating the 'sources' of freedom in Charles Taylor's philosophy. In particular, I consider his studies focused on Jean-Jacques Rousseau, Immanuel Kant, Georg Wilhelm Friedrich Hegel, Karl Marx, Isaiah Berlin and Michel Foucault, as Taylor develops his own view of freedom engaging a 'dialogue' with their philosophical perspectives. He rejects a view of 'absolute' freedom, which reflects a radical imposition of one's will, independently from her/his conditions as natural and social being...
Il concetto di dio nell'Inno a Zeus di Cleante L'esegesi allegrica e gli echi senecani
digital The aim of this paper is to investigate the concept of divinity expressed in Cleanthes' Hymn to Zeus, presenting the philosophical allegory as the key to reconcile the structural ambiguities and apparent contradictions present in the Stoic theology expressed therein...
I filosofi finsero e persuasero. Osservazioni sulla funzione civile della religione pagana in Marsilio da Padova
digital
The problem of the civil religion has received much attention and commentary from the historians of modern political ideas. Less attention has been given to the medieval frame and tradition on this topic. The article focuses on the civil role of the pagan religion in some medieval authors, and particularly in Marsilius of Padua's political thought (ch. V, first Dictio of Defensor pacis)...
Consulta l'archivio
Ultimi 3 numeri
Annate disponibili online
Fascicoli anno
2021